Gulfstream 31 Sportfisherman


Design No. 281
Length 31'-2"
Beam 11'-4"
Draft 18"
Construction: Composite fiberglass with Divinicell Core
Power: Single 185hp diesel with Hamilton Jet Drive
Speed: 30 knots
Weight 10,000 lbs.

The Gulfstream 31 is a deep vee sportfishing boat that was designed and built by Daniel Avoures. The hull featured a fine entry and constant sections without warp to the bottom. This shape along with light weight composite construction made for a fast yet soft riding and dry boat. The boat runs level and does not have or need trim tabs. Other configurations built off this same hull design included utility work boats, patrol craft, tunnel drive fishing boats and outboard powered fishing boats.

---
Gulfstream 30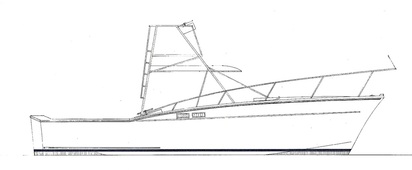 Design No. 199
Length 30'-0"
Beam 11'-10"
Draft 3'-0"
Construction: Composite fiberglass with Airex core
Power: Single Detroit 6V-92 diesel
Speed 30 knots




The Gulfstream 30 is a modified deep vee hull which has served its New Jersey owner well for many years running out to the canyon.
The boat features a large fishing cockpit with ample seating area. The cabin has basic overnight accommodations for four.

---