40' SHARK RIDE TOUR BOAT "MEGABITE"

Design No. 514

Length Overall 39'-10"
Beam 12'-5
Draft 3-4"
Displacement full Load 27619 lbs
Construction: Fiberglass


Propulsion: One Detroit Diesel 180 hp diesel engine

Speed: 9 knots
Passengers: 30 and 2 crew
Regulatory: USCG SubChapter T

Click on image to enlarge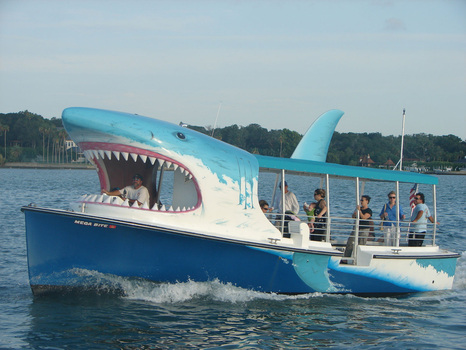 Congratulations to Tour Boats, Inc. owners of MEGABITE. Launched in July 2011 Megabite has caused quite a sensation doing dolphin tours out of Clearwater Beach, Florida making over 100 trips the first month in operation.

51' TOUR BOAT

Design No. 495

Length Overall 53'-8"
Length on Deck 51'-9"
Beam 16'-0"
Draft 4'-0"
Displacement full load: 17.8 LT
Construction: Aluminum


Propulsion: Two Lugger L1276A2 340Hp Diesel engines
ZF 370V remote mount V drive transmissions
Speed: 14K cruise / 22K max.
Passengers: 49 and 2 crew
Regulatory: USCG Subchapter T
ABS 1997 High Speed Craft

Click on images to enlarge