Pirates Ransom

Pirate Theme Passenger vessel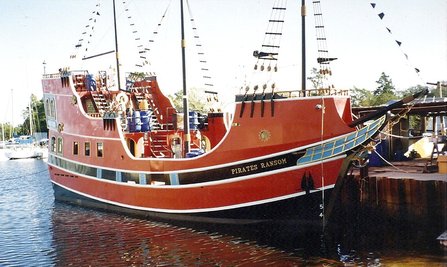 Design No. 349.
Length overall 67'-6"
Length on main deck 55'-6"
Beam 20'
Draft fully loaded 6'
Lightship displacement 62 long tons
Construction: Steel
Propulsion: Two Detroit Model 6-71 diesel engines.
Passengers: 125 Partially Protected Waters
149 Protected Waters
5 Crew
Year built: 1994
The PIRATES RANSOM was the first pirate theme passenger vessel designed by Daniel J. Avoures and Assoc., Inc.
We designed this vessel for Captain Memo's Pirate Cruise of Clearwater Beach, Fl.
This world famous operation has entertained millions of pirate revelers both young and old and is considered the gold standard for pirate theme cruises.
Check out their website at http://www.captainmeme.com
for more pictures of this vessel.
---